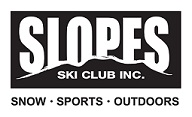 Backup accommodation for Ski Racers in National Park Village
Ski Racers are very lucky to have a reciprocal arrangement with Slopes Lodge in National Park for overflow bookings for members of Ski Racers as well as casual guests. They only have 60 members so almost always have space. Slopes is also a great back up if you arrive and bad weather stops you driving up the mountain.
Slopes' location at National Park Village makes it easy if you are
arriving late – just back up to the door, find out which bunk room you are in,
take your kit upstairs and get comfy. There is always a friendly face to
welcome you, a hot drink on the go and the living area will be warm & cosy.
They even have a sauna! There is ample parking on site – there is no need to
walk for miles in the snow, in the dark. Easy as!
NB/Slopes Ski Lodge has a slightly different set up to our own so please check out their website for more information.
2023 SLOPES SKI LODGE NIGHTLY RATES
$40 – Senior Ski Racers member (18 and over)
$25 – Junior Ski Racers member (6-17)
$70 – Casual Guests (18 and over)
$35 – Casual Guests  (6-17)
Address: 2 Millar St, National Park
Contact Booking Officer Evan: 027 492 5826 / 021 422 412